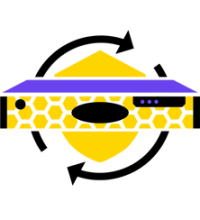 Arcserve® X Series Appliances deliver an all-in-one data and ransomware protection strategy with multi-petabyte scalability with a complete means to neutralize ransomware attacks, restore large amounts of data and perform effective disaster recovery (DR).
Powered by award-winning Arcserve Unified Data Protection (UDP) and Sophos Intercept X cybersecurity, Arcserve X Series Appliances uniquely combine deep learning endpoint protection with scalable onsite and offsite business continuity for a
multi-layered approach that delivers complete IT resiliency.
Architected with cloud-native capabilities, Arcserve X Series Appliances integrate your on- and off-site backup for large data volumes, rapid restore with built-in cloud DR and backup to the Arcserve® Cloud, as well as to private and public clouds,
including Amazon® AWS, Microsoft Azure®, Nutanix® Objects, Eucalyptus® and Rackspace®.